L'Atlas : The way of art
Exposition du 11 mars au 7 avril 2009.
Vernissage : le mardi 10 mars 2009 à 18h
E.S.A: 254 bd Raspail, Metro Raspail.
L'École Spéciale d'Architecture et le BDE sont heureux d'inviter L'ATLAS à exposer les photographies de ses œuvres dans sa galerie d'exposition du 11 mars au 07 avril 2009.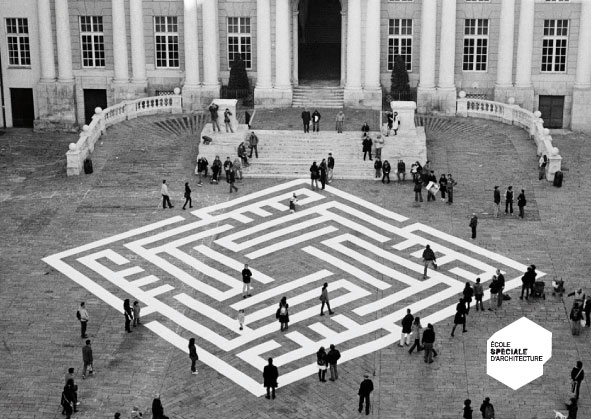 Déjà invité à réaliser à l'automne 2008 la fresque murale de l'École Spéciale d'Architecture sur le boulevard Raspail, L'Atlas investit cette fois les espaces intérieurs de l'école. Sur le sol du hall, il créera une boussole éphémère comme celle conçue il y a quelques mois sur le parvis du Centre Pompidou. Sur la mezzanine seront présentées une dizaine de photographies de ses fresques ainsi qu'une vidéo de sa performance sur le sol de l'école. À l'occasion de cette exposition à l'École Spéciale d'Architecture, trois éléments fondamentaux de la pratique de L'Atlas seront ainsi réunis : graffiti, photographie et vidéo.