DUSTER est avant tout un illustrateur. Le format trop restreint du papier déclenche l'envie de varier les supports et de rendre sa passion accessible au public tout d'abord, comme beaucoup au travers du graffiti en intégrant le 132 CREW, puis de l'affichage sous l'impulsion de son ami 36 RECYCLAB.

DUSTER is above all an illustrator. The size limits of paper, gave him the desire to experiment new mediums. To share his passion with the public he joined the graffiti scene with the 132 crew, then he started pasting posters thanks to his friend 36 RECYCLAB.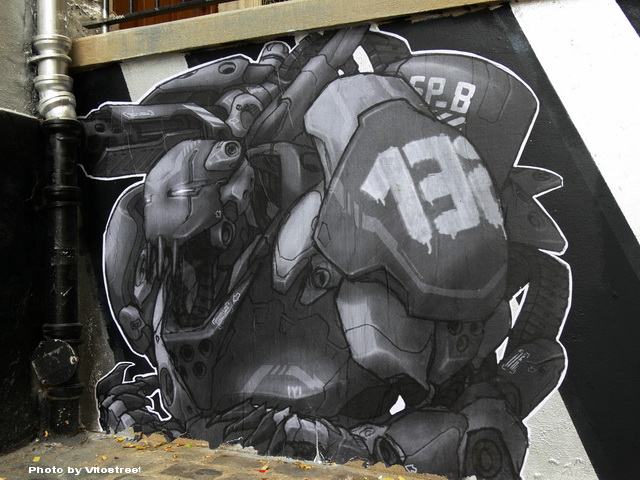 La technique du collage et le grand format des murs lui permettent de faire évoluer plus loin ses diverses influences, telles que le manga et les comics. Il en résulte un style profondément ancré entre la mécanique et l'organique.
Pasting posters and big wall formats brought to him to new influences from Manga & Comics to a style where organic textures and machine-made are mixed together.
Pour l'exposition This is Streetgolf, il présente "AFTER_THE_BATTLE_II", collage et peinture acrylique sur bois, design et texture à la palette graphique.
For his new exhibition "This is Streetgold", he presents "After the Battle II", a collage with acrylic paint on wood, with digital textures painted with a graphics tablet.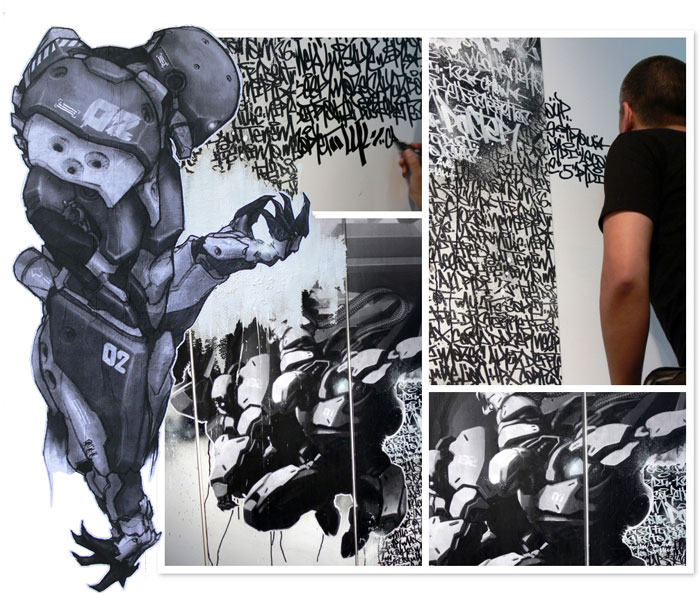 Photos by Vitostreet
——————————————————————————-
Exposition: This is Streetgolf – du 14 au 21 juin [ Galerie Chappe – 21 rue chape 75018 Paris ]
Artistes: Manu Custom , Trbdsgn, Duster , Guillaume Jolly ,Sköyp, Angéline Dangelser