Posted by:
vitostreet
in
street photos
, tags:
TITI FROM PARIS

Titi from paris , tous droit sorti de l'imagination de Frank , venant de la bande dessinée , certain disent qu'il ressemble à un shadock , en tous les cas ce qui est sur c'est qu'il a toujours le bec ouvert…il raconte des histoires , témoin de son temps , aidé par d'autres personnages comme la "mouche kifée bzz",entre autre , des super fat héros , et plein d'autre encore…encore à venir dans l'avenir.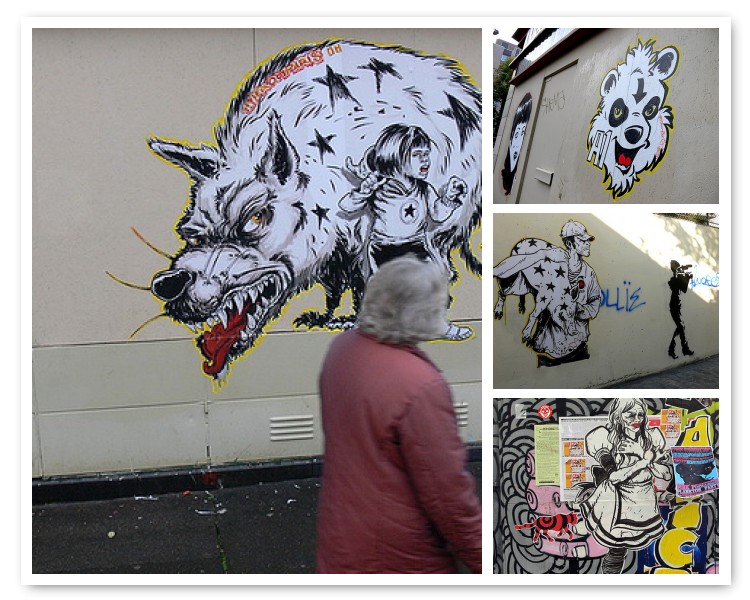 Revoilà le TITI FROM PARIS d'attaque, pour offrir couleur et poésie, passer un hiver moins fade et entamer la nouvelle année 2009! Il vous invite à l' exposition en cours qui se déroule jusqu'au 15 décembre 08, où seront présentés la nouvelle série de tableaux et de collages (personnages qui habitent l' univers de notre cher oizoo, héros, narrateur et témoin du temps qui passe…). Le vernissage aura lieu le samedi à venir, 6 décembre, de 16h à 21h dans le lieu "la suite"dans lequel se trouve également l'atelier de frank et l'univers de création du titi from paris, son home sweet home. Pour cette occasion, nous proposons un pot, une visite de l'atelier à ceux qui le désirent et aussi et surtout, frank fera une performance en direct : collage d'une scène originale de 3m/8m.

A l'occasion des fêtes de noël, en plus des tableaux, des collages seront à vendre de plusieurs tailles, qui représentent les nouveaux personnages, acolytes du Titi From Paris : Aéroman, Little Alice and The Big Wolf, duel (cow boy)… Ces collages, sont des modèles originaux sur papier découpé peint à la main. Ils ont été à la rencontre des citadins, en allant se coller, depuis un ans, sur murs, façades de Paris ainsi que festivals étrangers d'arts de rue. Ainsi, au grès de vos balades urbaines, vous aurez peut être l'occasion de les rencontrer mais en attendant vous pouvez les découvrir lors de l'exposition et dans le cadre de la performance ( FKDL et THE DUDE COMPANY seront de la partie).
Titi from paris FLICKR
Titi from paris MYSPACE