J'ai retirer le calendrier suite à un message de  Matt W. Moore,  je suis surement trop gentil…
Voici son message: Remove From Free Calendar.
You do not have permission.
This is extremely irresponsible, rude, and legally pursuable.
Please correct ASAP.
Pourtant c'est une photo que j'ai prise d'une peinture réalisée en pleine rue.
Mais le plus surprenant c'est la découverte d'un calendrier MWM2011 calendar , peut être n'aime t'il simplement pas "la concurrence" gratuite. (merde je lui fait de la pub et gratuite en plus)  🙂
MMW, j'aime ton travail, j'aime tes peintures mais toi j'taime pas.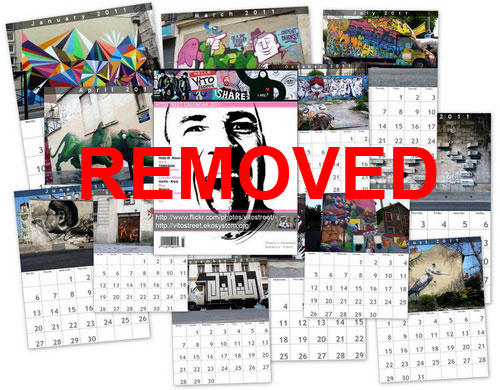 Si vous rechercher un calendrier 2011 gratuit, je vous conseille d'aller faire un tour sur le site de mon pote Bruno Leyval