Posted by:
vitostreet
in
exhibitions
, tags:
Galerie Emmanuel Perrotin
,
jr
,
vitostreet
La Galerie Perrotin a le plaisir d'annoncer la première grande exposition personnelle de JR "Encrages" du 19 novembre 2011 au 7 janvier 2012. Après avoir exposé dans le plus grand Musée du monde, les murs des villes, JR se confronte aux cimaises de la Galerie.
JR réalise des photographies souvent monumentales qui s'infiltrent dans le paysage urbain, portraits d'anonymes témoins du monde contemporain mais aussi mémoires des lieux : "Women are Heroes" notamment à Rio, Jaipur, Nairobi etc.(2008-2010) dont le film éponyme a été sélectionné au Festival de Cannes en 2010 ; "The Wrinkles of the City" à Carthagène, Los Angeles etc. (2008-2011).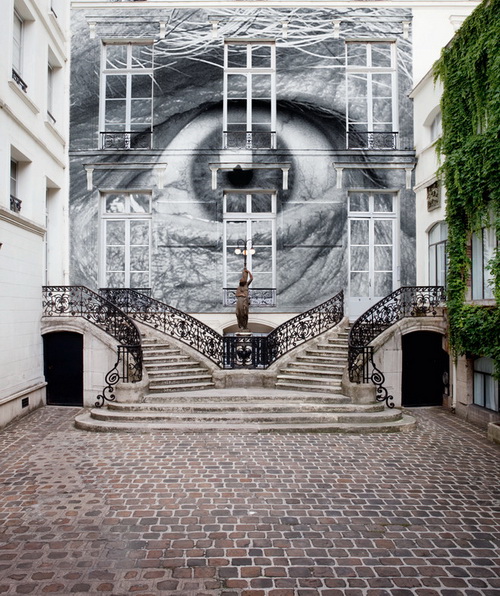 JR livre un art de l'action, affichant, sans y être invité, ses tirages surdimensionnés sur les immeubles des banlieues parisiennes, sur les murs du Moyen-Orient ou des Etats-Unis, sur les ponts brisés d'Afrique ou dans les favelas, au Brésil.
JR a reçu le prestigieux TED Prize 2011 qui lui offre la possibilité de formuler un "voeu pour changer le monde", avec le projet "Inside Out", il cherche à réunir et diffuser des images autour de l'intime et de l'identité.
Dans ce cadre, le photomaton imprimant des autoportraits gigantesques était visible cet été à Paris (Centre Pompidou), Arles (Rencontres de la Photographie) , Tel Aviv et Ramallah.
Des photographies inédites, un assemblage et des films seront également montrés ainsi qu'une affiche sur la façade de la Galerie.
Art engageant, infiltrant, participatif, éphémère… Au-delà de tous les qualificatifs, JR invite à une réflexion en mettant en avant des héros anonymes, offrant ainsi au regard les visages d'une humanité multiple et unique.
Exposition JR [Encrages] du 19 novembre 2011 au 7 janvier 2012
Galerie Emmanuel Perrotin
76 rue de Turenne
Paris 3è